Tuesday, September 17, 2019 / by Teresa McCormick
ABOUT THE TENNESSEE SUMMERTIDE COCKTAIL
Sarah Turbett, the bar manager at Oak Steakhouse in Nashville, came up with the idea for her brain-freeze-inducing creation thinking about her favorite flavors of summer and fall growing up in Tennessee. "Tennessee whiskey, summer peach and vinegar notes brighten up fall spices, orange peel and licorice, transporting your palate from the warm end of summer to the early crisp autumn breeze," she says. "Light enough to enjoy during the heat but complex enough to hold up to a piece of pumpkin pie, this cocktail is the perfect drink for the end of summer. Imagine sipping on this frozen cocktail on your porch in a great wooden rocking chair, watching the sun go down in a golden sky over amber fields." Sounds just peachy.
This recipe originally appeared as part of "4 Frozen Bourbon Cocktails for the Last (Official) Days of Summer."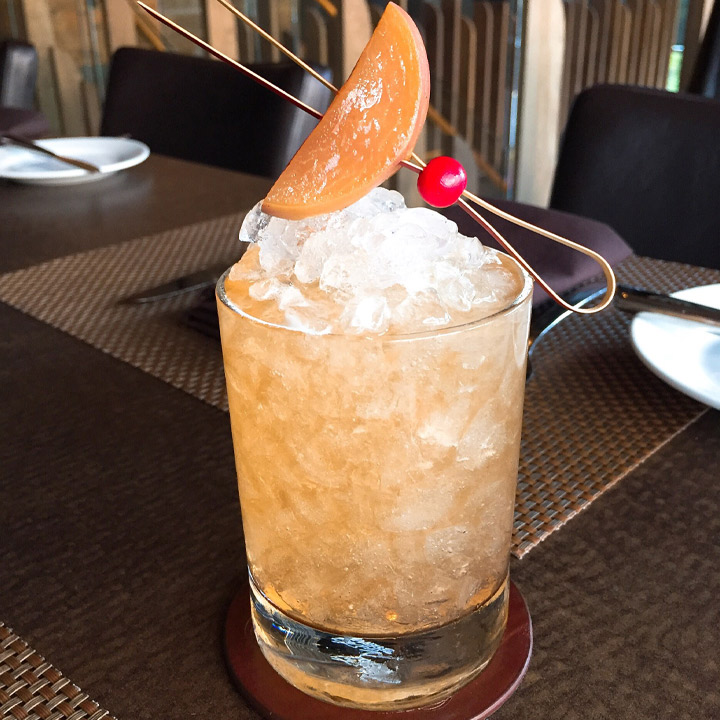 INGREDIENTS IN THE TENNESSEE SUMMERTIDE COCKTAIL
HOW TO MAKE THE TENNESSEE SUMMERTIDE COCKTAIL
Blend all ingredients and 1 cup of ice in a blender.
Pour into a rocks glass over crushed ice.
Garnish with a skewered slice of pickled peach.
*Pickled peaches: Boil 3 1/2 cups white vinegar, 3 cups white sugar, 1/2 cup diced lemongrass, 1 large piece of peeled ginger, 1 1/2 tbsp ground mace, 1/2 tbsp allspice, 4 whole cloves and 2 cinnamon sticks. Remove from heat, strain mixture over sliced peaches and let cool.
---